We believe strongly in keeping our dogs family raised. Because of this belief, we do not operate as a kennel. In our desire to have all of our breeding dogs living in a home as part of a family, we have chosen to make it available for other families to be a part of this process with us.
One of the greatest advantages to this program is once a dog has completed its years of breeding, it allows the dog to remain with their forever home, and it allows us to continue providing the highest standard of puppies without exceeding our own home capacity.
Most breeders rehome their dogs once they are no longer breeding them. We allow the homing to happen only once before the breeding process, giving the dog the most stability and joy through life. We find the advantages to our Guardian Families are numerous. Benefits such as: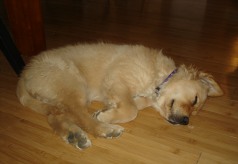 How the Program Works
In exchange for a cash payment for a puppy, CEG reserves breeding rights to the dog for three litters after the dog's second birthday.
We select specific puppies that we want to use in our breeding program. These puppies are placed in Guardian Homes at the same age we would normally place a puppy. For families with older children, this can be from 8-10 weeks old. For families with younger children, we place the puppies from 12-16 weeks old, or sometimes not until 6 months if the initial training process would be better carried out here with us.
Once the dog reaches 2 years of age, we have all her health testing done and the dog enters our breeding program. The dog stays with its guardian family with the exception of breeding and whelping when she comes to stay with us until the puppies are weaned and ready for their forever families.
Once she has completed her three litters with us, the dog is spayed and continues to live out her life with her forever family.
Occasionally we have males in our Guardian program as well. In their case, they live with their forever family other than when we require them to be returned to us for breeding purposes, usually for about a week at a time. When he has finished his years in our program, he is neutered and lives out the remainder of his wonderful life with his forever family.
CEG covers all expenses regarding the breeding of the dog, including spaying at the end of the litters. However, day to day expenses such as training and vet care are the responsibility of the guardian family. As much as we understand being a guardian family offsets the sometimes expensive initial purchase price of a well-raised puppy, we will only place puppies in homes confident they can afford the ongoing expense of having a pet dog.
Requirements
To be accepted into the Guardian Family program, we are looking for:
Families with children. Kids can be of any age from 1-18.
Families living within driving distance to Calgary, AB.
Families that agree with our practice of holistic breeding and rearing, and are willing to feed either raw or a top quality kibble until the end of the time in our breeding program.
Possibly most importantly, someone we can enjoy spending time with and working together. We love having our guardian families over and part of the whelping and raising process. We want to enjoy the time and experience together.
As we are looking for families we can work with ongoing, we are always looking for families willing to Guardian:
Golden Retrievers

Standard Poodles

F1 Goldendoodles
If you feel this is something you are interested in, please send a message to us so we can talk further.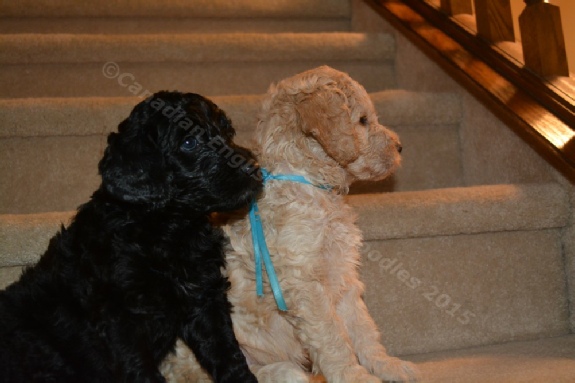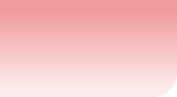 Please consider supporting us as we fund raise to help prevent the human trafficking of children.
Every dollar you donate will be deducted from the cost of your puppy.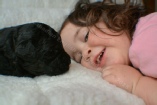 How to Adopt
What to do next to secure your puppy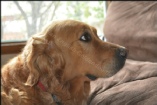 Upcoming Litters
See what is in the works with our goldendoodles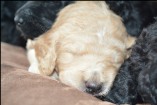 Our Puppies
How you want your puppy taken care of while it is still at the breeder.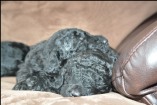 Choosing a puppy
How to make sure you take home the perfect puppy for your family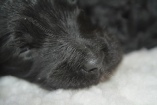 Puppies
Stella's goldendoodle puppies at:
Jasmine's poodle puppies at:
Buttercup's Goldendoodle Puppies at:
Coconut's Goldendoodle Puppies at:





© 2015 Canadian English Goldendoodles: Calgary, Alberta, Canada, T2Z1W7, 403-335-5915